Greeting Vibrant Moment Seekers,
If your physical body and emotional body do not reflect back to you–a Big Difference from the body and emotions you had last year, this means you are not growing toward your soul's desires.
Each year is a step forward toward your purpose in life.
Self improvement is not permanent until your physical body reflects the changes. You may think you have changed, but if you cannot see a difference in the mirror, the energy is not there. You must see your energy field radiate out more love and light when you look in the mirror.
Others can see you, feel you and sense you. So take a loving look at yourself.
I do not want you to waste your precious life another moment in mundaneness and ordinary consciousness. You have innate talents, skills and abilities which need to be used for the highest good. If you are not using them, they are being wasted.
Emotional health is not achieved until your body relaxes to allow more vibrant energy to flow though your flesh. We are incarnate after all! This means in- the- flesh. The way to get more juicy energy flowing though your body is to let go of old, thought patterns, false beliefs, projections and conditioned responses. Then you have more peak experiences and vibrant moments au natural.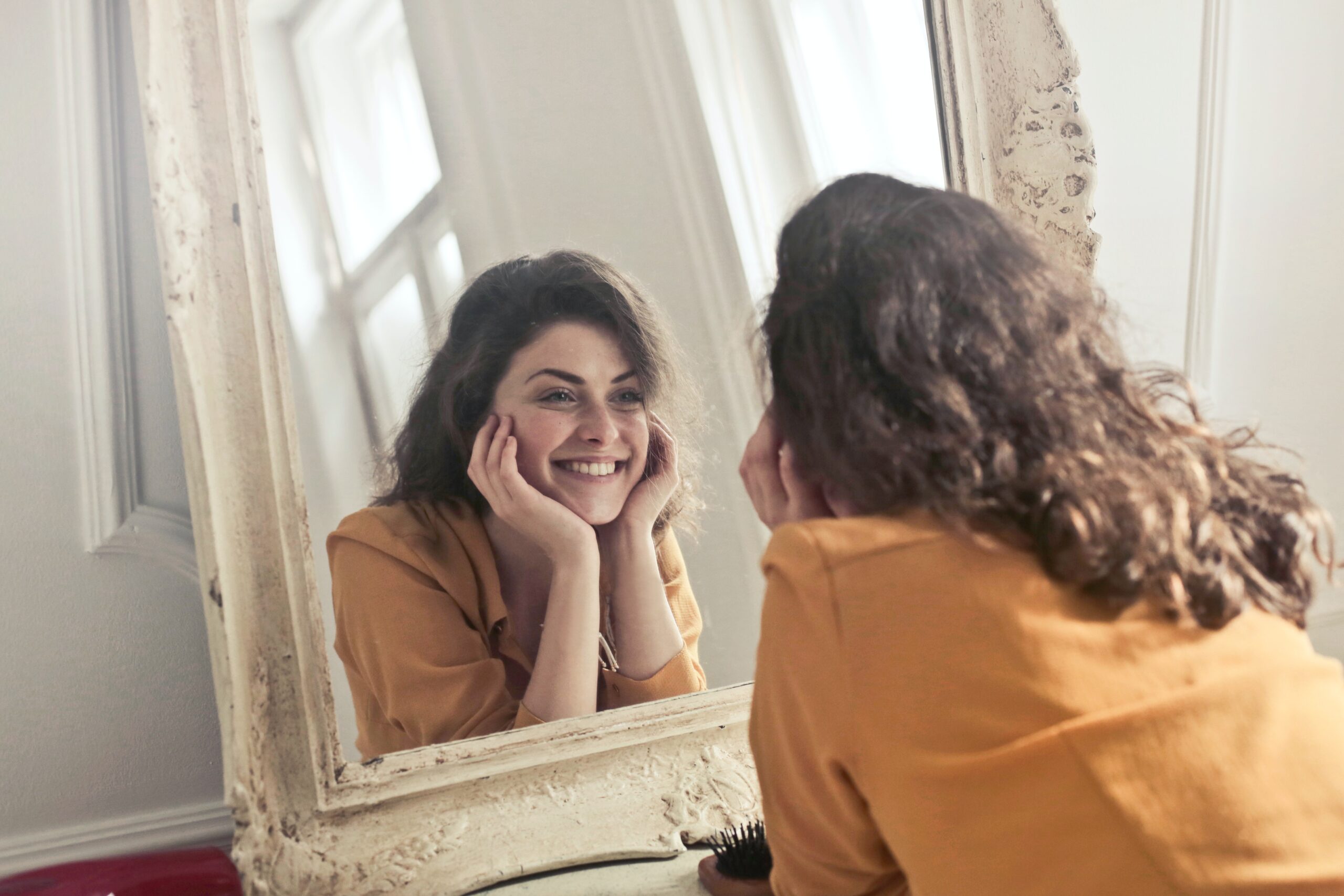 Your body reveals the truth about your thoughts, feelings and emotions. Your body does not have the ability to lie. Read Dr. John Diamond's book, "The Body Doesn't Lie" for more information.
So take stock of your body and emotions. Admit the truth of what you see in the mirror. Review this last year with love and laughter and kindness toward the self.
Do not judge what you see. Or you get stuck in judgment and this takes you no-where! Or even worse, your judgment might take you into depression and anxiety. So beware, review this last year, without judgment.
To learn exactly how to sneak pass your self judgment and cuddle up with self acceptance study, read, listen to "Opening the Heart- Your Emotional Guide to Self Esteem." 3 self help audio tapes, CDs or ebook. Get emotional guidance, holistic psychology information, and as a bonus, the sounds in my voice touch your soul, heart and nervous system directly— forever changing your body and emotions.
Click here to hear an audio clip of these self help tapes.
Click here to order before your
new year desires get lost.
This is what you feel like doing when you are full of joy. I really do carry my stuff on top of my head…….an old womanly trick.
Hear Sandra Yancy, CEO of ewomennetwork and I shooting the breeze about what it takes to be successful with your business on
"Live at the Edge" internet radio show.
For starters, you got to "Show Up." This applies to all self help success. You have to show up and take action. Otherwise, you are powerless. You cannot succeed at work or play.
Post your comments about Sandra's show or any other interesting radio interviews, such as Peter Shepherd's Mind Development on Live at the Edge Blog. Speak your mind, heart and soul. Ask for what you want and you get it.
So by all means amp up your life with some serious self improvement so you can Show Up This Year.
Here are some specific suggestions:
1-Take action on the things you read in The Vibrant Moment newsletter. Don't just read about something, do something. Order something, buy something, take action. Get education in the areas you need to know more about for success.
2-Follow the free advice and suggestions posted on my free radio show even if you are not single, "Tips for Singles,' on 'Live at the Edge.' If you use any of these tips you get on the self help success track. Then…..next year at this time you are sure to notice a Huge Difference between your body and feelings from last year. Even those of us in a relationship need to stay centered in our power to stay on our own spiritual path.
3-Show Up for yourself, Be there for yourself. Stop avoiding and Show up. This is huge, try it and see what happens. Just show up.
4- Let something touch your heart and soul. A person, a moment, a color, a feeling, a sound- consider allowing my voice to touch your heart.
5-Use your Mind to set in motion this year's intentions. Imagine them, see them and then put some energy behind them.
6- Sign up for your free holistic psychology, mind body spirit newsletter:
Get two free gifts, "How Colors Affect Emotions" and "Emotional Intelligence Test and Emotional Intelligence Definition"
Next year can be the year when you turn the corner.
Become the person you know you are inside. Become your authentic, real, spiritual self in the real body.
Aloha,
Sounds like I am ready for some warmer weather and blue water.
Doris Jeanette, copyright, January, 2007